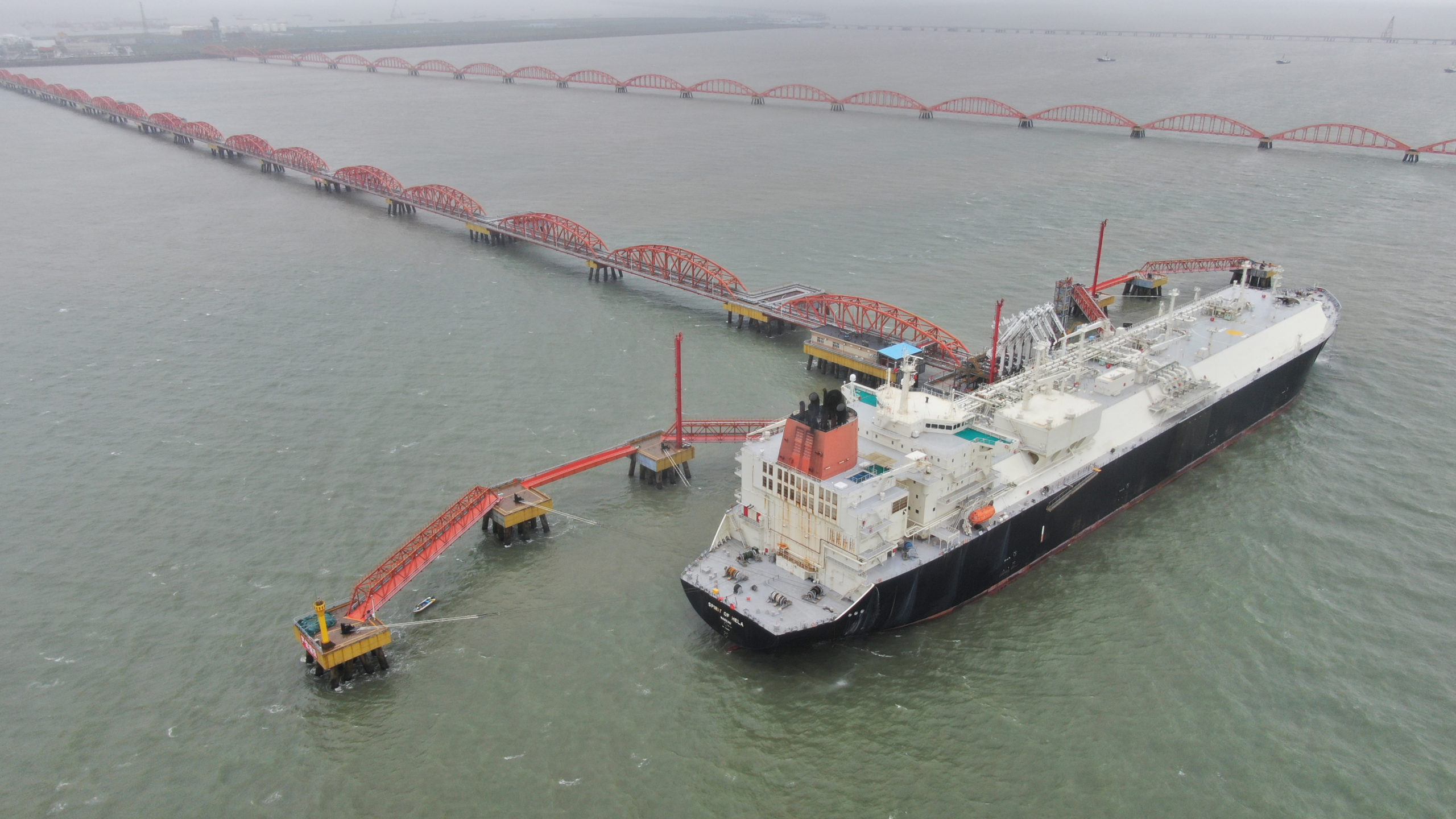 With more than 6,000 people now at work in BC on the LNG Canada project and associated Coastal GasLink pipeline – and contracts being awarded to companies along the cross-country construction supply chain – community and business leaders are eager for the next new LNG development.
"Here we have this incredible economic opportunity that's continued through the COVID period, driving huge economic benefit for the region," Brian Cox, CEO of the Canadian LNG Alliance, said on a webinar this week hosted by dmg events. "What's rarely discussed is what that is doing for the entire country."
For Rory Ring, CEO of the chamber of commerce in Sault Ste. Marie, Ontario, it's important for Canada to continue to build major projects like LNG export terminals in order to meet its full potential "as a beacon in responsible resource development."
"That will not only benefit communities like mine, or larger urban centres like Toronto, but it will [also] be the Halifaxes, the Vancouvers, the Grand Prairies. We will all benefit from that type of focus and supporting the private sector in developing these projects," Ring said on the webinar.
"It's that pebble in the pond that reflects and echoes right through the economy. That pebble is starting off in British Columbia with the LNG project, [and it] clearly shows the impact across the country into here in Ontario."
The Montney: A top-tier natural gas resource
The value chain for the $40-billion LNG Canada project starts in the massive Montney play, which straddles northeast BC and northwest Alberta. Analysis in 2013 estimated the Montney to hold 449 trillion cubic feet of natural gas, in addition to vast quantities of natural gas liquids and light oil. Canada currently produces about 15.8 billion cubic feet of natural gas per day, meaning that the Montney alone could support current production rates for more than 70 years.
"The Montney today has proven reserves that would provide generations of supply," said Dale Bumstead, mayor of Dawson Creek, BC, on the dmg events webcast. "We have these world-class resources that give countries like China, Malaysia, India, Japan, the confidence to be able to supply in significant volumes for them over the long term."
Montney natural gas is plentiful, and also low-cost to develop. According to Sproule, the breakeven price for natural gas-weighted Montney production can be as low as US$1.00/MMbtu. So far this year, natural gas prices in Western Canada have averaged approximately US$1.60/MMbtu, and US$2.50 in New York trading.
Sproule market analyst Liam O'Brien says that the only major natural gas producing basin in North America that compares to the Montney in terms of breakeven prices is the Permian Basin in Texas, which essentially produces associated gas for free along with oil volumes underpinning the economics.
"Western Canadian natural gas resources rank as some of the most competitive in North America and globally," he says. The sector is challenged to fully develop this potential with the US as its only customer, however.
"The US is becoming increasingly self-reliant, which limits growth opportunities for Canadian producers in the absence of alternative markets," O'Brien says. LNG Canada, which is expected to startup in 2025, will be Canada's first venture out of the North American natural gas market.
LNG: Canada's luxury good
Globally, natural gas demand is expected to grow by more than 30 per cent over the next two decades, from 382 billion cubic feet per day in 2018 to 505 billion cubic feet per day in 2040, according to the International Energy Agency. This is led by growth in developing countries, where natural gas (often traded as LNG) is being used to displace coal to reduce greenhouse gas emissions and improve air quality.
"Globally, LNG is a luxury good. Clean air is a luxury good in a lot of these countries," says Ian Archer, associate director in the natural gas team at IHS Markit.
"Canadian natural gas has an abundant cheap supply that could easily displace coal and higher intensity fossil fuels and provide uplift for Canada, giving greener and cheaper energy both in North America and globally, assuming they can get the infrastructure completed and show the wherewithal to do it."
In addition to being a competitive natural gas producer, he says Canada has advantages developing LNG export projects compared to other jurisdictions.
"Our biggest competitive advantage is distance. It's a much shorter distance to send LNG from the west coast to Asia, for example, where we see the most growth," Archer says. LNG Canada has also shown that Canada can also be competitive on costs, he says.
The supply cost of LNG to Japan from the first phase of LNG Canada is estimated at US$7.20/MMbtu, compared to US$7.80/MMbtu for a new LNG project on the US Gulf Coast, according to a December 2019 report by the Oxford Institute for Energy Studies.
Reducing global GHGs
The pebble in the pond of benefits from Canadian LNG extends across the globe. Analysis continues to confirm the potential for meaningful GHG reductions when using Canadian LNG to displace coal for electricity in Asia. The Oxford Institute reported that BC LNG used for power generation in China would emit 477 kilograms of CO2 equivalent per MWh of power, compared to 1,043 kgCO2e/MWh from coal-fired power plants in China.
A study published in the June 2020 edition of the Journal for Cleaner Production found that power generated in China with LNG from Canada would result in emissions reductions of 34 to 62 per cent compared to coal.
Back in Sault Ste. Marie, Ring says that LNG buyers are increasingly looking at environmental, social and governance (ESG) performance — metrics where Canada stands out compared to other jurisdictions.
"Canada is a leader in the environmental development of its resource sectors..that makes sure we're respecting our land and our water, and we're really now taking a great focus on the learnings and the teachings of our Indigenous people," he says. He's eager to see more projects like LNG Canada.
"For us, there is skin in the game that we want to see a project like this really launch our country into the forefront," he says. "It's going to be projects like this that fuel economic recovery."