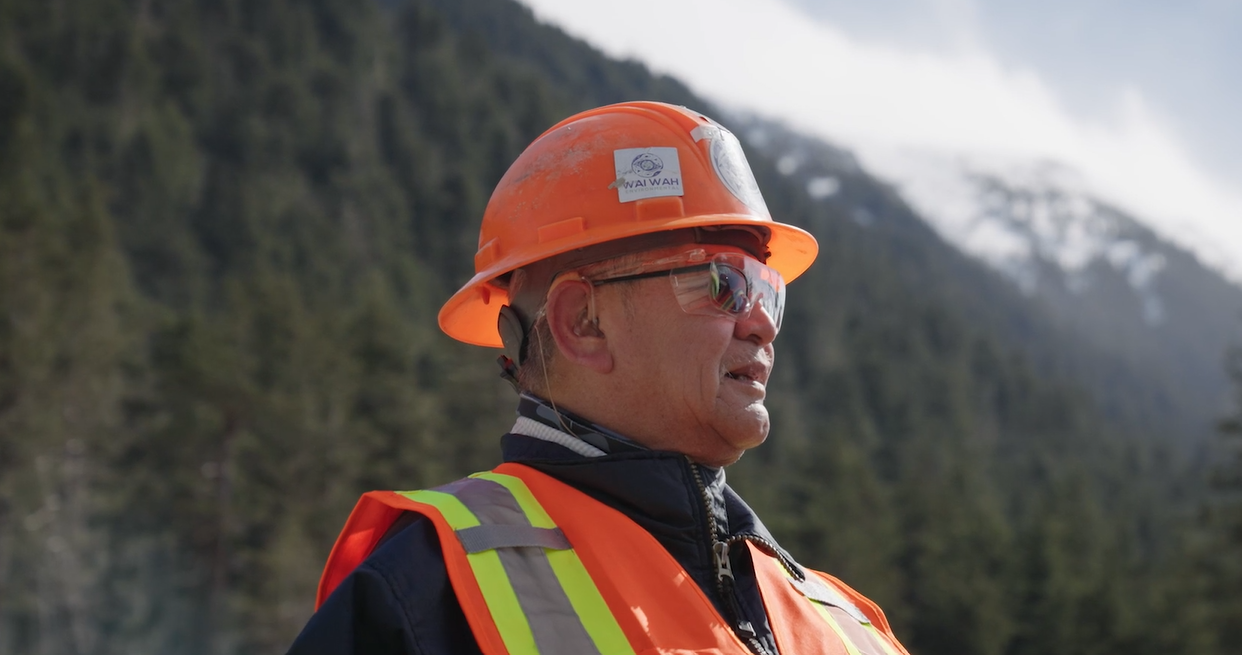 With an eye on legacy, Edward Innes is helping maintain environmental standards along a section of the Coastal GasLink pipeline near Terrace B.C.
The 78-year-old Elder of the Kitselas First Nation has been a construction monitor and community liaison (CMCL) on the project since 2019 – observing people, projects, and wildlife. He has completed over 550 reports, which are uploaded to a community database.
"I tell these people who are working on the [Coastal GasLink] project – this is history, just like the highway and railway," says Innes, adding he sometimes reports in Sm'algyax – the Kitselas language. He is one of the last language keepers in the community.
The CMCL program offers Indigenous people the opportunity to participate in construction within their traditional territory for the purposes of observing, recording and reporting, says Coastal GasLink. The program's core value is transparency with Indigenous communities.
"For me, that's success, when a community feels they have been represented, and a community feels their members have been able to observe," says CMCL Coordinator Harry Bodewitz, who travels with Innes to sites along the pipeline – like Cable Crane Hill – a steep incline that has a gondola-like structure built to transport equipment, workers and materials.
"We ask each other, where would you like to go? What would you like to see?" says Bodewitz.
The $14.5 billion pipeline stretches 670 kilometres from northeast B.C. near Dawson Creek to the Port of Kitimat. The pipeline is scheduled for completion in 2023 and will transport natural gas to the $18 billion first phase of the LNG Canada export terminal in Kitimat – which is forecast to begin operating in 2025.
The proposed $3 billion Cedar LNG project, 50 per cent owned by the Haisla Nation in Kitimat, will also source gas from Coastal GasLink. Cedar has regulatory approval to proceed under 250 binding conditions and could be in operation by 2027.
"I get goose bumps when I think of it," Haisla Nation Chief Councillor Crystal Smith said in a recent report published by Energy for a Secure Future.
"Not just for our community but for the neighbouring First Nations too. We hold them close in the ability to share in the opportunities that the project brings."
After reaching the west coast, pipeline gas will be converted to liquefied natural gas (LNG), pumped onto vessels, and shipped primarily to Asian markets to help lower emissions by displacing coal-fired power generation.
Switching from coal to natural gas reduces emissions by half on average, according to the International Energy Agency. Canadian LNG can deliver an even bigger decrease, reducing emissions by up to 62 per cent, according to a June 2020 study published in the Journal for Cleaner Production.
As Coastal GasLink nears completion, Innes reflects on his connection to land and history. He sometimes wakes to clouds and rain drifting through the Coast Mountains. Sometimes the sky is blue, reflecting light off the Douglas Channel. No matter the weather, he is determined to leave a legacy.
"What I tell the men, when I'm around with them, I say to them, 'In the olden days, the Canadian railway was started, and they didn't put the environment under consideration,'" says Innes, noting Coastal GasLink worksites are clean and tidy.
The Kitselas people have inhabited their territory for around 5,000 years. Their name, derived from Gitselasu, means "people of the canyon." The Kitselas Canyon on the Skeena River is the heart of the community.
"I've been watching this project," says Innes. "They really put the environment under consideration."
Most communities along the pipeline corridor support Coastal GasLink, says Innes. Project agreements have been signed with all 20 elected First Nation governments along the project route.
Around $1.5 billion in contracts have been awarded to Indigenous and local businesses. Sixteen First Nations – including Kitselas – have signed a 10 per cent ownership stake once CGL is completed.
"It's good for everyone all across Canada," says Innes. "Kitselas is very happy about it, too."
Even with support from Indigenous communities, the pipeline still has opponents. Innes has little patience for a group that attacked a worksite near Houston, B.C. in 2022, causing millions of dollars in damage.
"That's not very good at all – period," he said.
The unaltered reproduction of this content is free of charge with attribution to Canadian Energy Centre Ltd.