Labour union and business leaders in the US and Canada are calling for new president Joe Biden to reconsider his cancellation of the border permit for the Keystone XL pipeline, arguing for the project's jobs, economic benefits, and groundbreaking approach to environmental protection.
Project owner TC Energy has committed that the pipeline from Alberta to Nebraska will have net-zero emissions on its first day of service, and will be fully powered by renewables no later than 2030.
"Keystone XL really sets the bar for combining renewables and new energy with pipelines," says Tim Pickering, president of Calgary-based Auspice Capital Advisors. "You need the oil, and we're your friends. Instead of lifting sanctions on Iran, why don't we work together?"
Biden's move to revoke the permit for a completed import pipeline border crossing runs counter to expectations that the U.S. will need to grow its oil imports over the coming decades.
Foreign oil imports are expected to increase from 7.3 million barrels per day in 2019 to about 8.1 million barrels per day in 2050, according to the most recent outlook by the U.S. Energy Information Administration.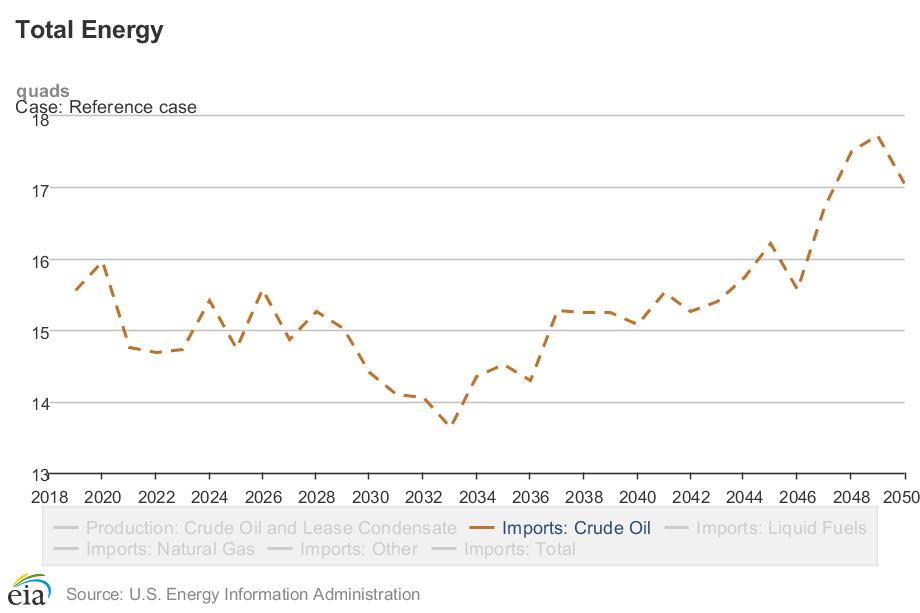 Keystone XL would transport up to 830,000 barrels per day to U.S. Gulf Coast refineries, many of which are specifically tailored to process heavy crude like what is primarily produced in Alberta.
U.S. imports of Canadian oil have increased over the last decade despite the dramatic surge of U.S. domestic production, which also appears to be slowing down. Imports of Canadian oil and petroleum products grew from 2.5 million barrels per day in 2010 to a record 4.8 million barrels per day in December 2019, prior to the COVID-19 pandemic.
In part, imports from Canada have helped displace declining imports from Venezuela and Mexico.
"They're not only short oil, they're short heavy oil," Pickering says. "They've become more and more reliant on heavy oil, and that heavy oil is coming from Canada."
TC Energy suspended work on Keystone XL following Biden's executive order, which will result in thousands of workers being laid off on both sides of the border including an entirely union workforce in the U.S.
"In revoking this permit, the Biden administration has chosen to listen to the voices of fringe activists instead of union members and the American consumer on Day 1," reads a statement from the Maryland-based United Association of Union Plumbers and Pipefitters.
"For the average American family, it means energy costs will go up and communities will no longer see the local investments that come with pipeline construction…We will keep fighting for Keystone XL and any infrastructure project that creates good jobs from the brothers and sisters of the association."
Jim Hoffa, general president of the Washington, D.C.-based Teamsters Union, urged the Biden administration to reconsider the decision.
"This executive order doesn't just affect U.S. Teamsters; it hurts our Canadian brothers and sisters as well," he said in a statement. "America needs access to various forms of energy that can keep its economy running in the years ahead. This decision hurts that effort."
Canadian Chamber of Commerce CEO Perrin Beatty said the action wastes an opportunity to work together on a shared US-Canada strategy to fight climate change.
"To reject Keystone XL on the basis of its climate impacts would ignore the fact that it will be the first pipeline in North America that will achieve net-zero emissions from the very first day it enters service," Beatty said in a statement.
"Canadian oil products are subject to high environmental standards and a progressive carbon tax [and] are produced by companies that have set aggressive targets for net-zero emissions. Keystone XL furthers the new US administration's climate action commitments by securing these products for the United States in place of oil from producers that do not adhere to those standards."