As demand for plastic soars amid the COVID-19 pandemic , two companies have joined forces for a made-in-Canada solution that would ensure no plastic is left behind in the waste stream.
Calgary-based NOVA Chemicals Corp., a leading producer of chemicals and plastic resins, has partnered with Montreal's Enerkem Inc., which operates the Enerkem Alberta Biofuels (EAB) plant located in Edmonton, the first commercial-scale operation in the world to turn non-recyclable, non-compostable mixed municipal solid waste into biofuel.
The companies have signed a development agreement to research advanced recycling technology that would transform plastic waste that's currently difficult to recycle into ethylene, which can be used to produce polyethylene, the main element used to produce plastic bottles, containers for household chemicals and other easy to recycle products.
Sarah Marshall, NOVA's director of sustainability, says the idea of closing that loop, ensuring new life for tough to recycle products like straws, plastic bags, food storage containers and toys, is top of mind for the company. While plastics rated 1 or 2 are fairly easy to repurpose, those sporting ratings of 3 to 7 (often found on the bottom of the product) have long posed a challenge for recyclers.
"The whole topic of building a circular economy is really important for Nova chemicals. In 2018, we refreshed our sustainability strategy and at that time we realized we needed to put a lot more focus than our already decent focus on plastics and their fate after they're used by the consumer," says Marshall, whose company is a founding member of the Alliance to End Plastic Waste.
"We've been looking at all of these ways to continuously upgrade the value of what I'd call waste plastics — plastics that can't be recycled. And so advanced recycling technologies, like the joint development agreement that we announced with Enerkem, are an area of interest for us and this is one of a couple of ways we're looking at advanced recycling and how we can change the feedstock ultimately that we use for plastics."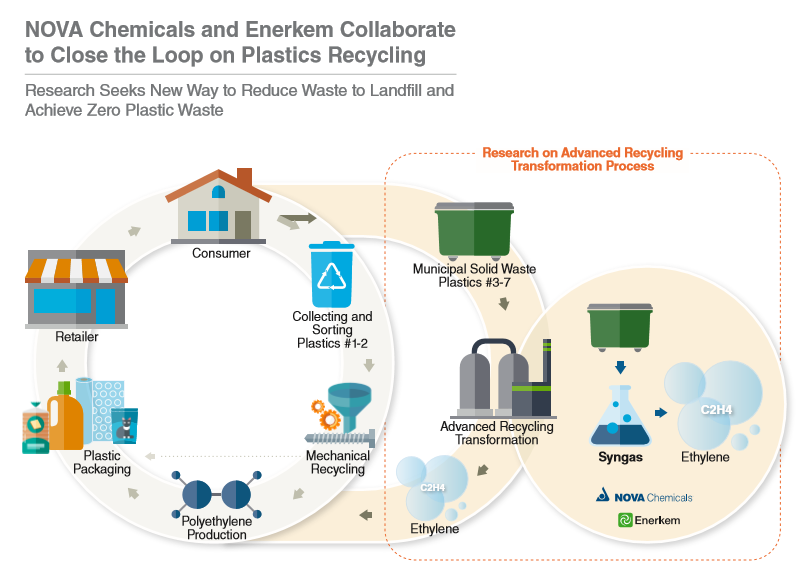 The ultimate goal of the partnership between NOVA and Enerkem will be to produce polymers from the recycled material that will be indistinguishable from those made from 100 per cent pure fossil-based feedstocks. In essence, dead material like straws and food containers will be given an new life and transformed into new plastic goods, creating the potential of a future with zero plastic waste.
For Enerkem, the world's first company to produce renewable methanol and ethanol from non-recyclable municipal solid waste on a full commercial scale, its expertise in breaking down complex materials has the potential to go even further.
"With over 20 years of technology development, we have built a robust gasification platform to turn waste and biomass into fuels and chemicals with high carbon efficiency," says Peter Nieuwenhuizen, the company's vice-president of technology strategy & deployment.
"Enerkem's technology has the scale and versatility to supply raw materials for the circular and decarbonized chemical industry that is being created now. Not just for plastics but also for many other chemical ingredients that are vital for everyday life."
According to a study commissioned last year by Environment and Climate Change Canada, plastics, including production, manufacturing and recycling activities, represented a $35-billion industry for Canada in 2017.
That same study found Canada generated some 3.3 million tonnes of plastic waste in 2016 with an estimated 86 per cent winding up in landfills. A further four per cent was burned for energy and another one per cent, approximately 29,000 tonnes, wound up as litter. Only nine per cent was ultimately recycled.
Based on the value of the raw material, plastics destined for the landfill represents a loss of $7.8 billion, the study's authors estimate.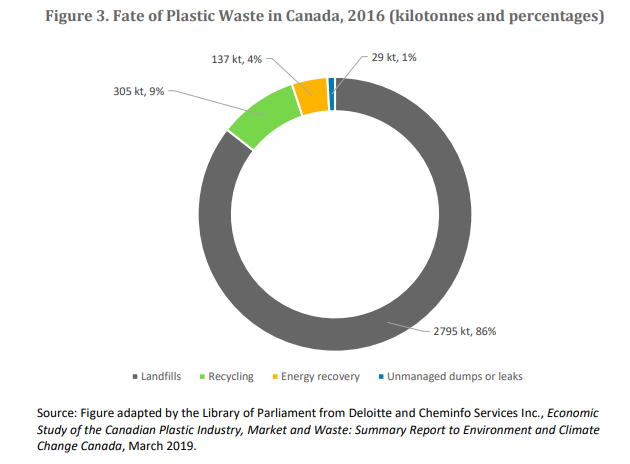 Marshall says that diverting those products from landfills and ultimately giving them new life will improve environmental sustainability, and could serve as a model for the world.
By leveraging the world-class expertise and state-of-the-art facilities of both companies, Marshall believes some significant breakthroughs are on the horizon.
"We're really excited about it because we have very complementary expertise. But on top of that, not just our research people on staff, but we also have very complementary capabilities," she says.
"One of the things that really helps to speed implementation of successful research programs is having the facilities available to continuously scale up the technology. So between the companies, we have lab scale, technical scale and pilot scale equipment, and that's definitely going to help speed this innovation."
With plastics becoming a major safety valve during the COVID-19 crisis, helping in the supply of safety gear and packaging made necessary by a spike in demand, Marshall said people are realizing their importance, and there's an even greater need to ensure those products are have a life beyond their original purpose.
"When you think about everything that you're getting shipped to your house because you don't want to go out and get it, well, there's a lot of protective packaging involved there — both cardboard and plastic," Marshall says.
"But it's also reminding people that we need to deal with the issue of what we do with these products after they're used. That's what's going to really help us enjoy the value of plastics and take care of the negative effects of plastics in the environment."
Canada has become a global leader when it comes to reducing the environmental toll of plastics, championing the Oceans Plastics Charter at the 2018 G7 conference. The resolution, which has seen 26 nations and 69 organizations sign on, aims to work with industry on a number of measures with the goal of recycling and reusing at least 55 per cent of plastic packaging by 2030 and recovering 100 per cent of all plastics by 2040.