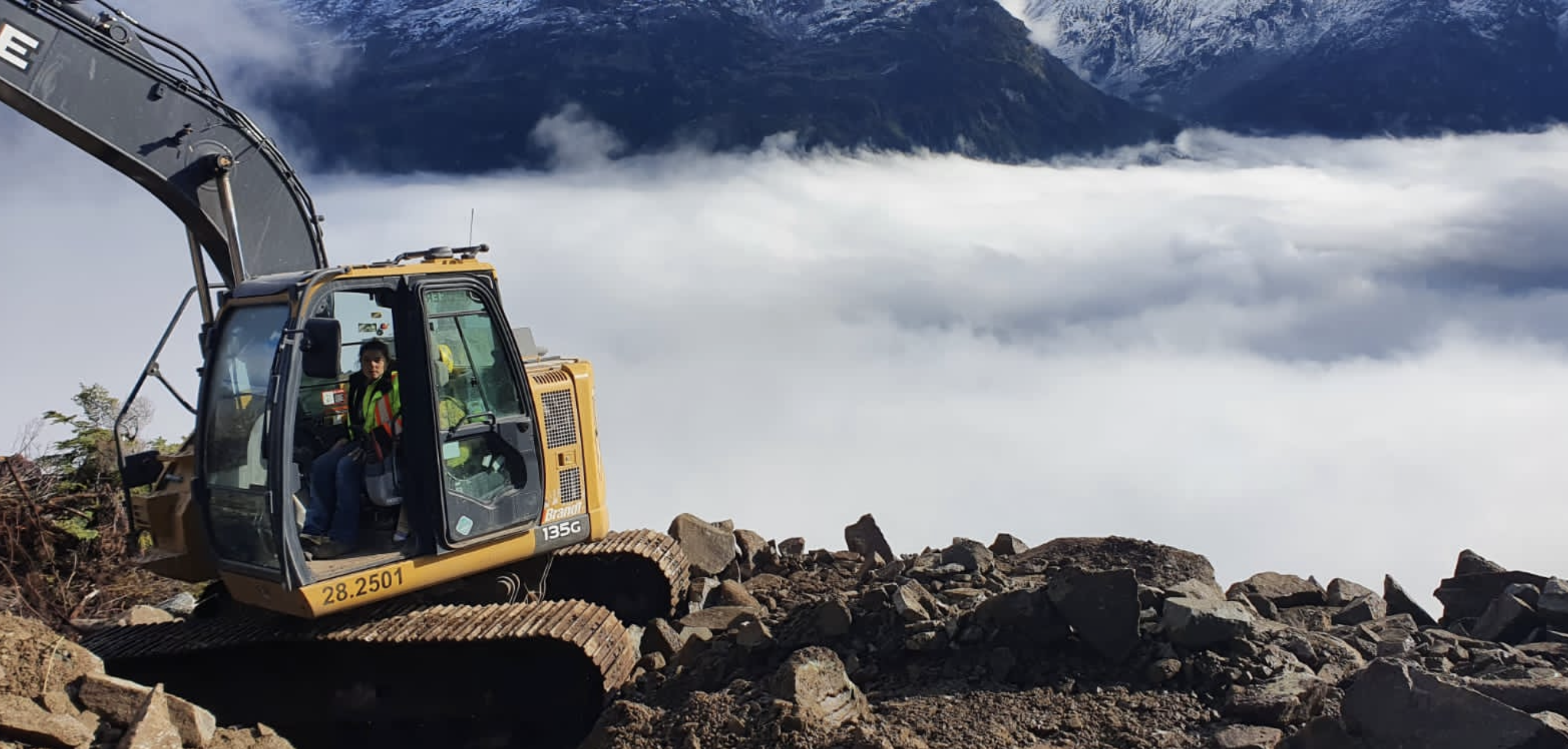 It's mid-2020 and there's a woman with blue and purple hair operating an excavator on a steep slope near Kitimat, British Columbia. Wind carries whisps of cloud and rain through the trees. There's a smell of cedar and mud. With care she moves tonnes of rock and dirt – clearing a path for a section of the Coastal GasLink pipeline, which begins in northeast B.C. near Dawson Creek and ends in Kitimat.  
Around noon, she turns off the machine, eats lunch and thinks about family in Newfoundland. 
"I absolutely love my job," says veteran heavy equipment operator Kristy Robinson, reflecting on the excitement and challenges of working on Cable Crane Hill on Section 8 of Coastal GasLink.  
"It's fun seeing the reaction on people's faces when they see me in the machine and I'm not a big burley dude." 
With an elevation change of 700 metres, Cable Crane Hill is more of a mountain – one of many challenging sections along the 670-kilometre pipeline corridor that will deliver natural gas from B.C. for global exports.  
Heavy equipment and heavy lift helicopters battling difficult terrain were deployed to build a temporary gondola-like structure that is used to transport equipment, people, and materials up the slope.  
"I've got pictures of my machine above the clouds. It certainly showed me that I'm capable of doing more than I realized," says Robinson, whose Mi'kmaq heritage strengthens her resolve to overcome challenges.  
"Sitting on the top of that hill and looking down, it's a long way to the bottom." 
Robinson is also a long way from her start as a heavy equipment operator student at the College of the North Atlantic in Newfoundland in 2005.  
"My family want me home," she says. "But it's hard to get a job as a female equipment operator back home and there is limited work." 
The Cable Crane Hill crew became tight knit over the months, says Robinson, noting there were few visitors to the remote site. She began working for Coastal GasLink prime contractor Macro Spiecapag Joint Venture in 2019. She started at Cable Crane Hill in the summer of 2020 and left with the onset of winter for other work on the pipeline. 
"With the help of the people I worked with, we all built each other up and helped each other – it was a team effort," she says. 
As the $14.5 billion Coastal GasLink nears completion, Robinson has pivoted to reclamation work on another section of the project near Burns Lake, B.C. She's currently working for Michels Canada and is spending less time in heavy equipment after moving up the ranks. 
Meanwhile, pipe installation and mechanical work continues at Cable Crane Hill, part of a section that is now 95 per cent complete. The entire pipeline is 90 per cent constructed and expected to be complete by the end of this year. 
 The unaltered reproduction of this content is free of charge with attribution to Canadian Energy Centre Ltd.