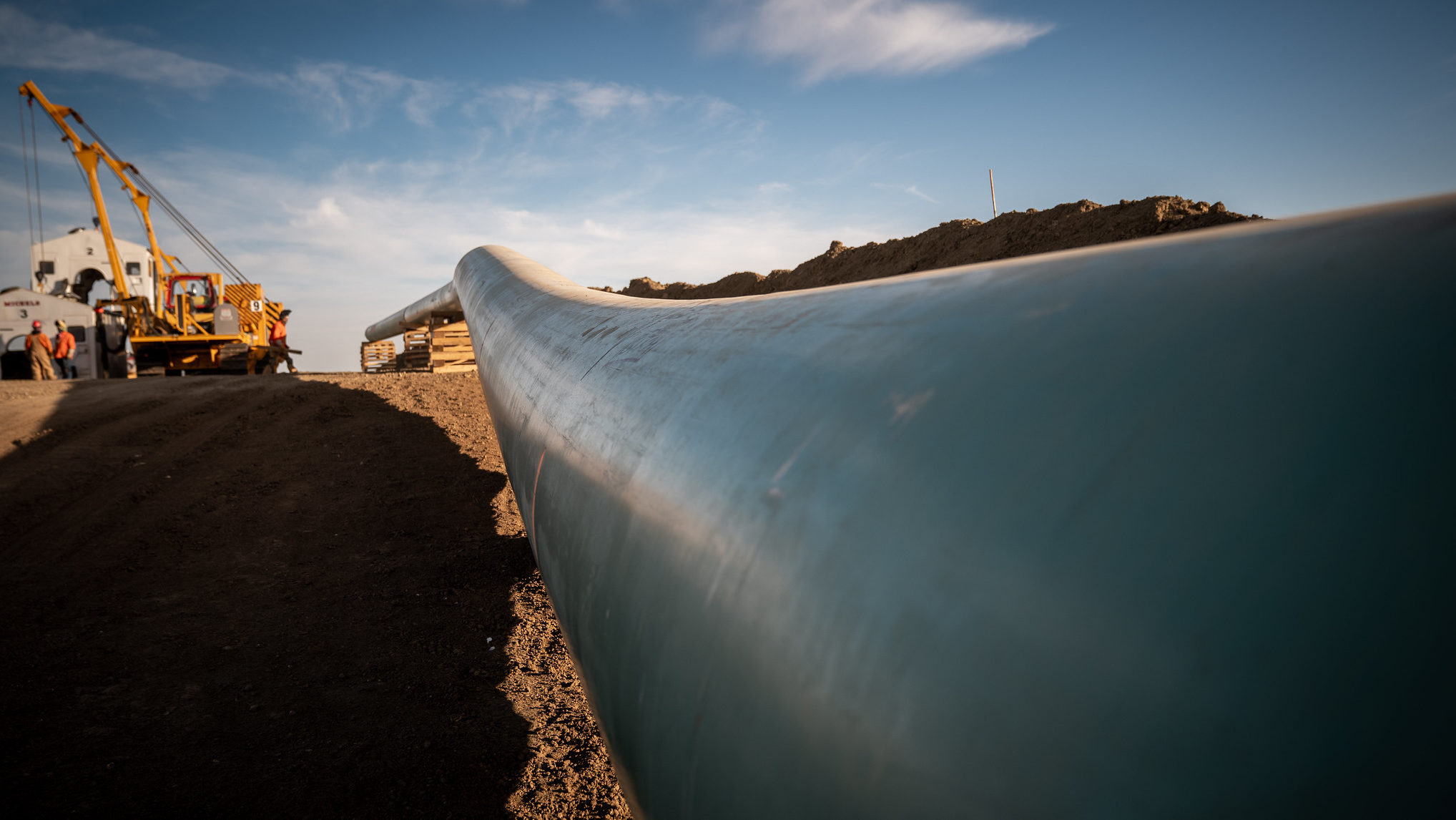 As critical as the Keystone XL pipeline is to Canadian oil producers to help increase export capacity, it may be even more critical for US refiners facing dwindling and unreliable supply from other jurisdictions, as well as for the thousands of Americans who will be employed working on the project.
US oil production has skyrocketed in the last decade, but at the same time US demand for Canadian oil has continued to rise. It's an issue of "light" oil versus "heavy" oil, where Keystone XL — which will create a bullet line from Alberta to US Gulf Coast refineries — is a clear example of the benefits for both the US and Canada through the interconnection of their energy systems.
"[Keystone XL] is a perfect symbiotic relationship," says Phil Skolnick, New York-based analyst with Eight Capital. "This is a way better thing to have than to continue to be relying on Middle East oil. There's very low political risk when it comes to barrels coming from Canada to the US. We're not talking about a rogue country; it's not like it's coming from Iran or something like that."
Skolnick says that should presumed US president-elect Joe Biden follow through on his campaign promise to cancel the US approval for Keystone XL, and if the Trans Mountain pipeline expansion is completed, US Gulf Coast refiners would need to find other sources for heavy oil.
This would most likely come from OPEC nations like Saudi Arabia; however, refiners would be competing with increased demand for medium and heavy oil in Asia due to new petrochemical plants and road building.
Keystone XL fills growing US heavy oil gap
The massive growth in US oil production — from approximately 5.5 million barrels per day in 2010 to 12 million barrels per day in 2019 — has been in so-called "light oil," but many US refineries are tailored to run "heavy oil" like what is primarily produced in Canada.
The difference essentially comes down to heavy oil being more complex in terms of its components compared to light oil. This means that refineries that primarily process heavy oil are configured differently than light oil-processing facilities.
Over the past 40 years, the refineries in the US have invested billions expanding their ability to process heavy oil, analysts with IHS Markit wrote in a December 2018 report. This occurred first on the US Gulf Coast, where refiners were seeing more heavy oil imports from Latin America, and then the US Midwest, where refiners were importing more from Canada.
The majority of Canadian oil exports to the US — or 57 per cent of approximately 3.7 million barrels per day in 2019 — go to the Midwest, but more and more is heading to the refineries at what would be the end point of Keystone XL, drawn by growing demand from refiners.
Keystone XL is ready to meet America's needs and provide much-needed jobs, plus energy from a safe, reliable and trusted source for decades to come.#TimeToBuild #KeystoneXL
Visit https://t.co/TuNYyZ0jAg and view our Project Overview at: https://t.co/Y9wTtHbySG pic.twitter.com/9edZsM9sbv

— Keystone XL Pipeline (@KXLPipeline) October 30, 2020
Thanks to smaller-scale pipeline connections and crude-by-rail, Canadian oil has increasingly been filling the gap left by lower production in Venezuela and Mexico, which have traditionally supplied the US Gulf Coast.
US Gulf Coast imports of Canadian oil increased from approximately 82,000 barrels per day in 2006 to 790,000 barrels per day in 2019, according to the Canada Energy Regulator. The CER reports the highest level to-date was achieved in January 2020, at approximately 980,000 barrels per day.
US refiners continue to add heavy oil processing capacity by means of a technology called "coking," according to American Petroleum Institute (API) spokesman Scott Lauermann. This is compared to a refining technology called "distillation" that is applied to light oil.
"U.S. coking capacity of nearly 2.8 mb/d in 2020 is 2.7 per cent higher than it was in 2018, Lauermann told the CEC by email. "By comparison, U.S. crude oil distillation capacity grew by 1.5 per cent over the same period despite the increased availability and low cost of domestic light sweet crude oil."
Relying on OPEC to turn on the taps?
One of the founding members of OPEC, Venezuela is currently experiencing an unprecedented decline in oil production, dropping as low as 100,000 barrels per day this summer, according to IHS Markit. Analysts attribute the fall to decades of decline and decay, exacerbated by the U.S. sanctions that started in 2019 and the COVID-induced oil price collapse.
Meanwhile, Mexico has seen steady production declines since 2005. State-run company Pemex reported 1.7 million barrels per day of production in August 2020, down significantly from its peak of 3.8 million barrels per day in 2004.
"Heavy oil from Canada remains a vital input that matches well with complex U.S. refining capacity as well as the ultimate product market needs that require heavier molecules,"Lauermann said.
"Keystone XL would increase the availability and improve the cost effectiveness of Canadian heavy oil supply to complex refineries on the US Gulf Coast."
Should Biden cancel Keystone XL, Skolnick says US Gulf Coast refiners "are going to see their margins getting squeezed unless OPEC starts to open up the taps," which negatively impacts energy security and could increase gasoline prices in the Gulf Coast region.
Momentum, jobs and spending
After years of regulatory review and conclusion on both sides of the border that Keystone XL is in the public interest and can be operated safely, Calgary-based TC Energy announced in March 2020 it would commence construction. In July, the company completed the long-awaited border crossing. In August, it signed a labour agreement with four US labour unions ensuring union members will work on the project.
In late October, TC Energy announced it has awarded more than US$1.6 billion in contracts to six major union contractors who will hire more than 7,000 workers in 2021, prioritizing local hiring and Indigenous-owned businesses.
When combined with additional contracts that have yet to be announced, Keystone XL is expected to employ more than 11,000 Americans in 2021.
"Efforts to stop the construction of Keystone XL undermine American energy progress and deny local communities of key environmental and economic benefits, as well as the good-paying union jobs that modern pipelines provide," API vice-president Robin Rorick said in a statement to CEC.