The desire to create opportunity for Canada's Indigenous people was imprinted early on Alicia Dubois, whose father took his family from Ontario into the heart of Alberta's oil sands in search of a better life.
Dubois was named Chief Executive Officer of the Alberta Indigenous Opportunities Corporation, a new provincial crown corporation that aims to break down long-standing economic barriers, such as access to capital, that Indigenous communities and businesses experience when seeking opportunities to participate in the economy.
Born in Ontario, her father came from Algonquin roots. In the 1970s, he travelled to Fort McMurray, Alberta's oil sands capital, and landed a job with Syncrude.
After Dubois' father made it through the first six months required to have the company sponsor his family's move, Alicia made the trek with her mom from Ontario to Fort McMurray in February of 1978.
"It was cold," she says with a laugh, "but we really loved Fort McMurray. The city was full of people who came from all over the country and world to work, so it was easy to make friends and build a sense of community as we were all strangers to the then small town."
More than 40 years after her family made that trek across the country in search of opportunity, Dubois sees much of the same hurdles her father faced still prevalent today.
"The single largest challenge in addressing Indigenous poverty in Canada is unequal access to capital and the economy," says Dubois. "Gaining access to capital to gain ownership in significant projects is nearly impossible for Indigenous communities."
It's a problem Dubois saw firsthand in a previous role, as a member of CIBC's executive.  She and her team led the rewriting of CIBC's Indigenous lending guide, redefining how the bank approached security and structuring credit for Indigenous clients.
"Indigenous business is often viewed, inaccurately, as high-risk business.  It was eye-opening to many of my colleagues to see the business my team was booking and to also see how resilient our First Nation clients were as COVID-19 hit," she says.
"We had a number of First Nation clients with significant credit authorizations amounting to upwards of $75 to $100 million and due to strong collateral and credit structures, none were close to breaking their loan conditions."
"I was very proud to see the strength of Indigenous business – it is an effective way to break down stereotypes and biases."
That confidence in Indigenous entrepreneurship is at the heart of the AIOC's mission.
Since joining the agency in September, Dubois says seeing the degree to which Indigenous communities and businesses want to participate in the Alberta economy has been very inspiring.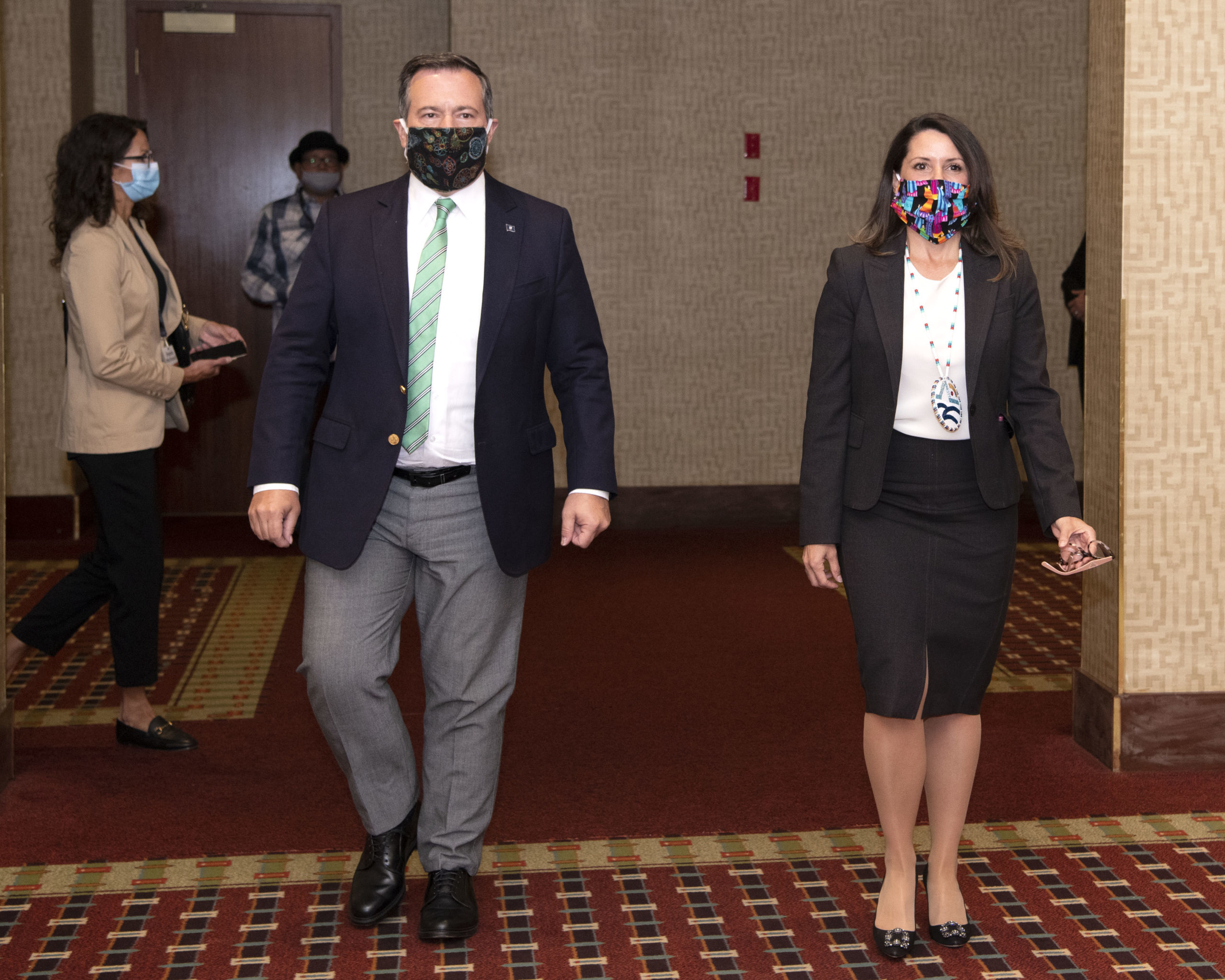 "We don't lend money," she says of the AIOC, "But what we do to support Indigenous access to the economy is game changing for Indigenous communities across Alberta."
The AIOC offers Indigenous groups loan guarantees in pursuit of equity investment in commercially viable natural resource projects ranging in value from $20 million to $250 million, says Dubois.
The AIOC also offers capacity grants which ensures Indigenous groups, that are working though the formalities of their potential investments in projects, have access to relevant professional advisory services that will allow them to make independent decisions and engage in informed negotiations with industry.
In September, Dubois announced the organization's first financial contribution to an Indigenous venture, a $93 million investment by six central Alberta First Nations into the $1.5 billion Cascade Power Plant project under construction about 220 kilometres southwest of Edmonton.
Prior to landing in the financial industry, Dubois' professional life was diverse, winding through law, social services and energy.
Completing a degree in neuoroscience at the University of Lethbridge, Dubois was accepted into law school at the University of Toronto. After earning her degree she spent some time with Alberta Justice before making a life-changing move to Calgary-based utility ENMAX.
"I had my eyes opened at ENMAX in 2009 when they sent me to Antarctica on an environmental expedition with energy executives and environmental NGO leaders from around the world to learn about alternative energy," she says.
It was that experience with ENMAX that prepared Dubois for another life-changing opportunity that opened the door for her to learn more about the global view of development, including attending the 2009 United Nations review of the Kyoto Protocol in Copenhagen.
"It was not just government officials from UN member states that were exercising complex concepts and advocating based on their experience, but Indigenous peoples of the world were actively doing the same," she says.
"I am proudly Indigenous to begin with but during my time in Copenhagen I was proud, and saddened, and somehow relieved to see the issues around being Indigenous was not just a Canadian experience. Their message was the same that I hear in Canada – Indigenous Peoples want to regain their rightful place in political systems and governance, the economy and society.   It was a profoundly powerful experience."
And now in her new role with the AIOC, Dubois sees the agency's potential to support meaningful, multi-generational improvements for Indigenous people, an opportunity she says was impossible to pass up.
"This is a purposeful, impactful mandate that speaks to how I want to contribute to Indigenous wellbeing.  I couldn't be better placed to drive meaningful change."