New permits for Enbridge to replace a pipeline on the lakebed of Michigan's Straits of Mackinac with an underground utility tunnel are a step forward, but there's still a chance the governor of Michigan will succeed in her efforts to shut it down entirely.
"The effect would be catastrophic, to say the least, to the Ontario, Quebec, Michigan, and Ohio markets," says Dan McTeague, president of Canadians for Affordable Energy and a former member of parliament in Ontario from 1997 – 2011.
Line 5 supplies about 45 per cent of the petroleum currently required by refineries in Ontario, Quebec, Michigan, Ohio and Pennsylvania.
This is processed into gasoline, diesel, jet fuel and propane, including 55 per cent of Michigan's propane requirements, 100 per cent of the jet fuel used at Toronto's Pearson Airport and more than half of the jet fuel for the Detroit Metro Airport.
A shut down "would lead to some significant major, unprecedented disruptions in supply, force rationing [and] drive up the price. There won't be fuel," says McTeague.
"This is not [a pipeline] that would produce or send additional amounts of fuel, but in fact sustains the economies of pretty much the critical parts the US Midwest and of course, central Canada."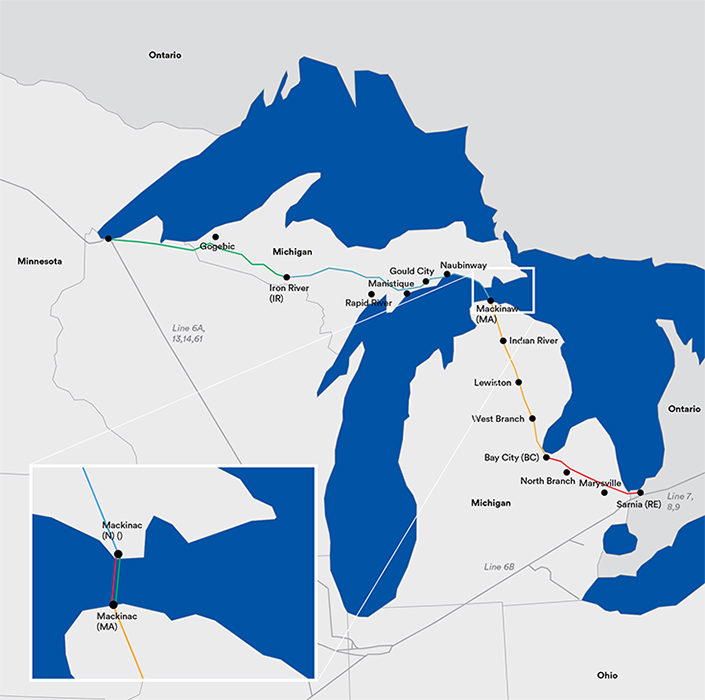 The loss of supply would also impact thousands of jobs. Line 5 provides feedstock for petrochemical facilities in the region including the Sarnia-Lambton Petrochemical and Refining Complex, which employs more than 4,900 people directly and is estimated to indirectly generate an additional 23,500 jobs.
One facility owner, Plains Midstream Canada, warns that without product from Line 5, its facilities in Sarnia, Rapid River, MI and Superior, WI would face shutdowns and price hikes, resulting in job losses in "another significant blow to area residents at a time when they can afford it the least."
Essential energy infrastructure
Line 5 runs from Superior to Sarnia connecting petroleum resources from western Canada to eastern markets. In Michigan it splits into dual pipelines that run along the lakebed of the Straits of Mackinac for about seven kilometres – where they have operated safely for 68 years without a single spill.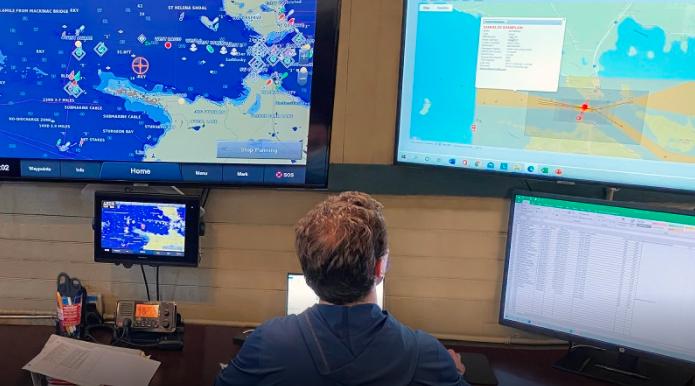 Despite this, in November Michigan governor Gretchen Whitmer issued an order to Enbridge to shut down Line 5 by mid-May based on perceived safety concerns. The company is fighting the order in court as it plans to continue operating the pipeline while it builds a $500-million new tunnel to house it underneath the lakebed.
"Doing this will maintain essential energy infrastructure, while also protecting the waters of the Great Lakes," says Jason Hayes, director of environmental policy with the Michigan-based Mackinac Centre for Public Policy.
Transporting the same amount of crude oil and natural gas liquids as delivered by Line 5 would require the less safe travel of 2,000 trucks or 800 rail cars going one-way each day. A study conducted on behalf of the State of Michigan found that alternatives to Line 5 would likely increase the price of propane on both a wholesale and retail level.
"Governor Whitmer's relentless campaign against the Line 5 pipeline makes her appear oblivious to the growing concerns that shuttering the pipeline could actually harm the environment at the same time as it imposes widespread negative economic impacts," Hayes says.
Tunnel permits
Enbridge's plan to construct a utility tunnel for Line 5 moved forward in late January with certain permits granted by the Michigan Department of Environment, Great Lakes and Energy (EGLE). Enbridge said the permits are an important milestone for the project, but they do not resolve Whitmer's effort to shut down the existing system.
Permits are also still required from the Michigan Public Service Commission and the US Army Corp of Engineers.
"It's a chance to get a breath of fresh air and breathe a little easier, but we're not out of the woods yet," says McTeague.
Following regulatory approval, construction is planned to commence in 2021, placing the new Line 5 crossing into service in 2024.
"If [a shutdown] is averted, then we have dodged a bullet. If not, then we're going to be faced with some fairly serious times," says McTeague.
"It does underscore the need for us to redouble our efforts in getting a pipeline bringing product from Western Canada at least into Ontario."