After a two-year pandemic induced interruption, music festivals are back and bigger than ever, but it wouldn't be possible to attend and enjoy these events without oil and gas.  
Over the past two weekends, hundreds of thousands of spectators attended the Coachella Valley Music and Arts Festival in Indio, California. The world's fifth-largest outdoor music festival and one of many popular days-long music festivals slated for the spring and summer of 2022.  
According to Billboard online, 32 million people went to at least one music festival in 2014 in the U.S. alone. That is just six million attendees shy of matching the population of Canada. 
With stages, sound systems, food vendors, attractions, campsites, and portable restrooms – large festivals are energy intensive.  
In the UK, music festivals in rural areas without access to electrical infrastructure use up to 250 generators each, requiring roughly 16,000 litres of diesel fuel to power an event.  
It is estimated that nearly 12 million litres of fuel are used by the UK music festival sector each year.  
While many festivals, Coachella included, have committed to increasing their sustainability in operations by switching to hybrid powered or renewable models, oil and gas products remain the primary means of bringing people together.  
Thousands of festivals will take place around the world this year. Here's how oil and gas bring these events to life:  
Transportation 
Nielsen Music reports that the average festival-goer travels more than 1,400 kilometers to attend a festival. 
Over 50 per cent of Coachella attendees in 2016 were from the region. These participants travelled to the festival location on a daily basis either in their own vehicles or by festival-arranged shuttles.  
The remaining 50 per cent of attendees, whether they are international or from the continental United States, wouldn't be able to attend without travelling by air or rail, both fossil fuel-reliant means of transportation. 
Accommodation 
At many festivals, tens of thousands of guests can opt to camp on-site instead of seeking out limited hotel or vacation rental accommodations.  
While this reduces the amount of daily transportation required for these visitors, they are likely camping in nylon tents or vehicles, and otherwise relying on everyday petrochemical-based products such as toothbrushes, luggage, cosmetics, sunglasses, clothing, and cell phones to elevate their festival experience.  
Stage production 
It is difficult to get an accurate figure of the amount of electricity used to power a single music festival, whether it is generated by natural gas or renewables. This is due in part to location, production company, and the variance in setups and equipment used.  
With multiple music festival stages running for days on end, casting lights, sounds and imagery to mile-wide audiences, one can conclude that the energy demanded and consumed by such events is high.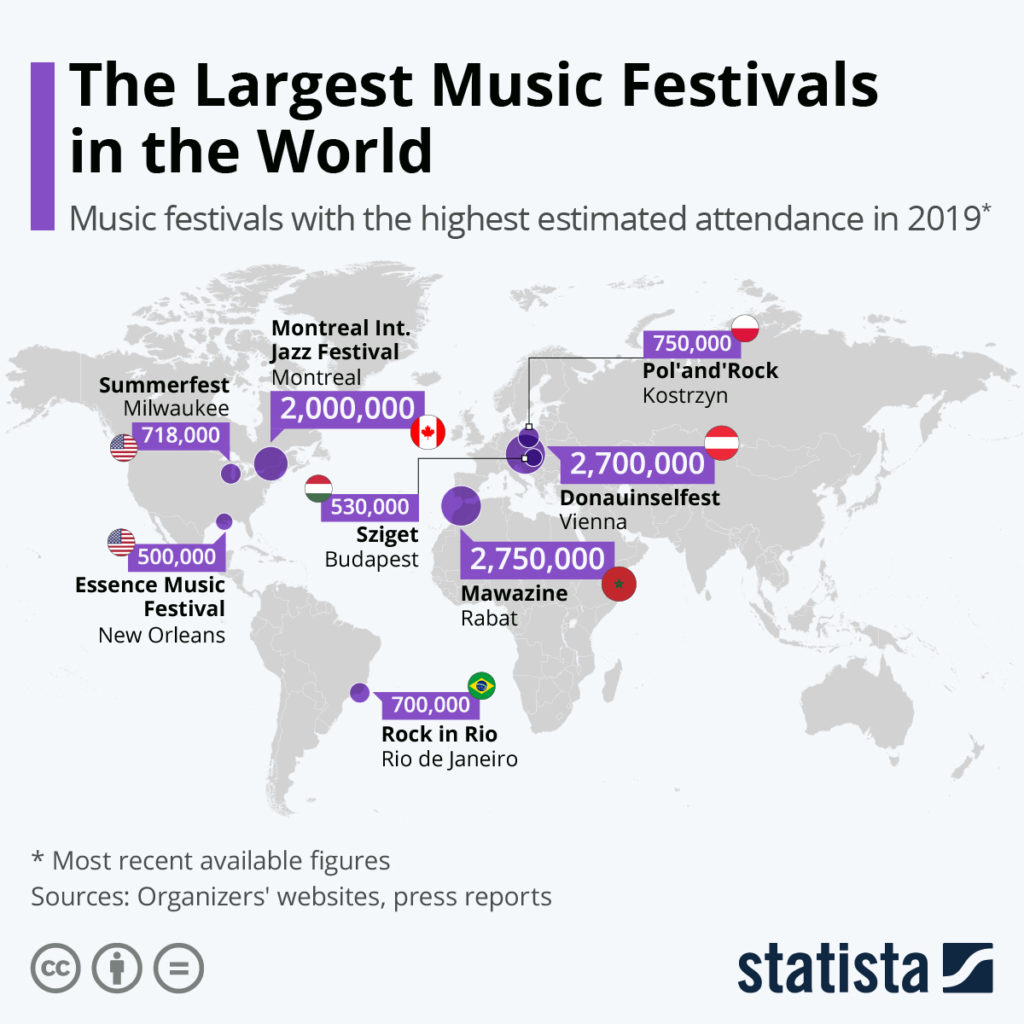 In terms of increasing sustainability at these events, a shift in power source presents an excellent opportunity for Canada's burgeoning hydrogen economy. 
The technology exists now for music festival organizers to gradually migrate from diesel to hydrogen generators, potentially reducing costs and emissions.  
It is unlikely that the popularity of live music festivals will fade, and for the foreseeable future oil and gas products will continue to deliver attendees.  
The unaltered reproduction of this content is free of charge with attribution to Canadian Energy Centre Ltd.